---
Sheboygan Neighborhood Pride (SNP) is a community resource empowering citizens to work together to improve their neighborhoods, increase safety, and enhance the quality of life in the community. Strong neighborhoods reduce crime (and the perception of crime), strengthen businesses and property values, and neighbors gain a sense of unity and purpose within their neighborhood. Grassroots activity is the best way to improve and support a neighborhood.  SNP supports organizations that work from the bottom up, rather than the top down.
---
Dear Donor/Sponsor:
As the Holidays quickly approach, the Sheboygan Police Department is once again holding Operation Blue Santa. As we all know, the holidays can be a very stressful time of the year especially for those who do not have the means to provide presents or meals to their families. The Sheboygan Police Department recognizes there are families living in poverty within our community and is determined to help create a positive holiday experience for these families within the City of Sheboygan.
Families involved in the program will be picked based on information received from area schools and the extent of the family's needs. Officers will deliver presents to each child under the age of 18 and each family will be provided with a meal. Officers will spend time opening presents in their homes and getting to know each family to assist creating a positive holiday memory. As memories are created, the Sheboygan Police Department will hopefully develop a lasting relationship with those families.
Our first Operation Blue Santa in 2016 was a success. We hope to build on that success with Operation Blue Santa 2017. Our goal is to deliver four (4) deserving families both on the north and south side of the city on December 10, 2017.
In order to make this program a success we are asking for monetary donations to fulfill the purchase of presents for each child. In addition, we will be looking for donations of traditional holiday food items or prepared meals. All donations will be used to make each family's holiday one to remember.
Please consider helping the Sheboygan Police Department build a strong relationship with our city's children and their families while creating a positive holiday memory. Your assistance will definitely have an impact now and into the future of the youth participants and their families.
Thank You for your consideration.
Southside Beat Officer Matthew Heimerl
Sheboygan Police Department (Phone: 920-459-0251)
Email: Matthew.Heimerl@sheboyganwi.gov
---
* Light up the Night *
---
These light bulbs are being offered for $.50 cents to help light up the night of Neighborhoods throughout Sheboygan.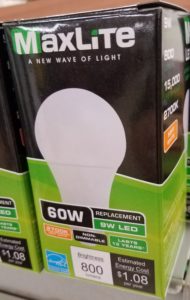 You can pick them up at ReStore 1911 North 8th Street. They should only cost a little over $1 to light up the night for a year.
---