Near North plans to have their annual meeting in April and a plant exchange in May.
Near North Neighbors had a Pizza Party at this years Annual Meeting
---
Some pictures from Near North / Maple Heights Neighbor's
having their first Block Party at Deland Home Park
---
Click on any picture for a better look at it.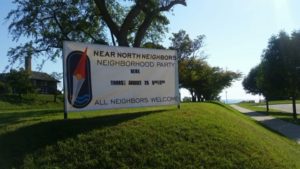 ---
Near North Neighbors have been planing to have a meeting sometime in November, but no date has been set as of today. They were taking a break after their picnic in September.
---
Near North meeting notes 8-4-14
Near North Neighborhood Association had a picnic type gathering in September of this year.

The Near North Neightborhood has requested the neighborhood's name be changed to "Maple Heights"